Meet Our Donors
We thank all our planned-gift donors for their generous support. Here are some of their stories.
---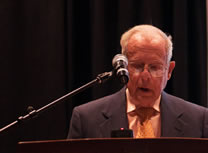 Jeremy J. Stone
Jeremy J. Stone was a longtime Ithaca College friend and supporter who, along with serving as one of the nation's leading arms control researchers, advocated for independent journalism—a cause instilled in him by his journalist father, I.F. "Izzy" Stone: a name well known to the IC community. Ithaca College's own Izzy Award for outstanding achievement in independent media is named after Izzy, who launched I. F. Stone's Weekly in 1953 to expose government deception, McCarthyism and racial bigotry.
Even though his father's controversial views twice jeopardized Stone's own security clearance, Jeremy Stone remained a lifelong, passionate advocate for independent media. Thanks to a generous endowment from Jeremy J. Stone's estate supporting the Park Center for Independent Media (PCIM), students in the Roy H. Park School of Communications will have even greater access to innovative communications resources, internships, lectures and workshops.
"Jeremy Stone was a big supporter of our center's efforts to help socially-conscious students move toward careers in independent media and journalism," says Jeff Cohen, founding director of PCIM. "He loved that our Izzy Award has raised awareness of his dad's work and legacy."
The Jeremy J. Stone Endowment in Support of the Park Center for Independent Media was established to expand the outreach and programming of PCIM, and to engage more faculty and students in its work. The center was launched to study journalism-oriented media outlets that create and distribute content outside traditional corporate systems and news organizations. PCIM also provides grants to students who work as summer interns at specific independent media organizations or nonprofits.
"Jeremy Stone's commitment to independent journalism stemmed in part from an unforgettable remark his dad told him when he was young," Cohen says. "Izzy had said: 'With a free press, if the government does something wrong, it will become known and the government can fix it. But if something goes wrong with a free press, the country will go straight to hell.'"
Stone, who passed away January 1, 2017, began his career as a mathematician before becoming an arms control researcher and advocate. He served as president of the Federation of American Scientists for 30 years, leading the organization's advocacy on subjects ranging from the nuclear arms race and human rights to civil conflict and energy conservation.
---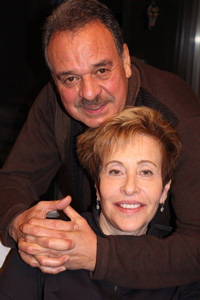 Tammy Brainin '74
Tammy Brainin '74 (pictured here with husband Steven Gonzalez) received her degree in television-radio, and went on to work in the profession for more than 30 years. As a way to express her love of the college, she created a scholarship to help deserving communications students who are attending IC. And she's a regular supporter of the IC Annual Fund for Communications.
But she wanted to take her philanthropy one step further. She did that with a charitable gift annuity. "The CGA is an interesting way to get a little money back and contribute to my college," Tammy says. "This is another way I can establish connectivity to the school and participate in giving."
Tammy's IC experience shaped her life, and she's crafted her philanthropy around helping today's students have the same great experience she did.
---
For Art Moore '66, it's really quite simple.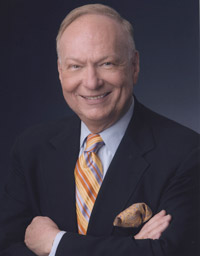 Art's a graduate of Ithaca College's Roy H. Park School of Communications and is the vice president of programming at WABC-TV as well as executive in charge of production for the nationally syndicated program Live with Kelly and Michael. He credits his IC experience with not only helping him land his first job, but achieving success in a competitive, dynamic field.
"I feel like none of it really would have happened had I not gone to IC," Art says. "I have a very strong connection to my time there, in terms of the programs, the professors, and the general feel and tone of the campus and the college itself."
"When you have that kind of experience, you should give something back." And has he ever.
Art's dedication to the college is legendary. He regularly meets with students, either in New York City or Ithaca, giving advice, answering questions, or simply easing their minds. He established the Art Moore '66 Scholarship, which supports students in IC's executive-style communications master's program. He contributes to the Big Apple Award, a reservoir of funding for students who might turn down an internship in the city because they can't afford to live there.
And he recently found another way to open doors for students. He designated Ithaca College as a beneficiary of his estate.
"My bequest is a continuation of my efforts to give back," Art explains. "I want to do whatever I can to help students be successful."
---
Shannon Bielaska, M.S. '74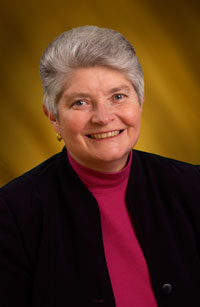 IC alumna Shannon Bielaska's first impressions of the college were formed in a somewhat unique way: from the back of her family's car.
"My older brother went to Lehigh University, so to get from Rochester to Lehigh, we drove by IC all the time," she recalls. When we'd go by campus, I'd say to my parents "That's the school I'm going to go to." I must've been about 12 years old.
Her intuition was as inexplicable as it was spot on. She did, in fact, attend IC. Twice. First, for two years as an undergraduate, then as a graduate student, earning her master's degree in physical education in 1974.
Some of her most pivotal experiences at IC revolved around sports. As an undergrad, she played basketball and volleyball and still has friends from that time. These were pre-Title IX days, when the disparity between women's and men's sports was marked.
"Later on, as I started watching my own daughter play sports, I thought how my college experience would've been different if I'd had those kinds of opportunities," she says. "It struck me that this would be a good place to be philanthropic."
Today, Shannon makes annual gifts to IC's women's basketball, volleyball, lacrosse, and softball teams-and has for years. But lately another thought has entered her mind.
"As you get older, you start thinking, What will happen once I'm no longer here to support these programs?"
Shannon answered that question. Through her will, she's created two endowments: one to support women's athletics, the other to support the IC Leadership Academy, a program designed to instill leadership traits and philosophies in the college's student-athletes.
"I would say, for me, this is a gift of love," Shannon explains. "If others remember the college fondly and really loved their time in Ithaca, they could certainly consider doing the same thing."
---
Helen Roberts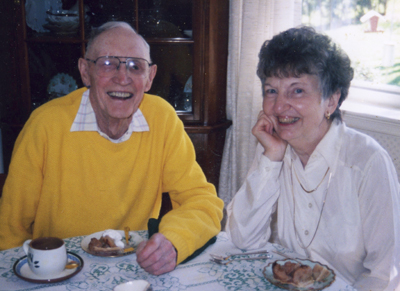 When you ask Helen Roberts about her late husband, you can't help but be touched by the love, admiration, and warmth that shines through. She readily offers stories and anecdotes about Merton, affectionately called "Coach" by many who knew him-including Helen.
Merton graduated from Ithaca College in 1935, with a degree in physical education. He was a teacher and, as his nickname indicates, a coach of many different teams and sports.
"I used to enjoy watching him with his baseball teams or wrestling teams," Helen recalls. "He was very calm, cool, and collected, and encouraged them all to do their very best. He had lasting relationships with the team members and their families."
Helen takes pride in Coach's accomplishments, in their family, and in the life they built together. When her husband passed away in 1999, Helen honored his life in a way she knew he'd appreciate: she created a scholarship in his honor at Ithaca College. The Merton J. '35 and Helen Roberts Scholarship encourages those at IC who follow in Coach's footsteps. It is awarded to students with financial need who are studying exercise, physical education, recreation, or sports.
"Education was at the top of the list for his whole family," Helen says. "That's one of the reasons why, when my husband died, I started this scholarship and have joined in supporting it."
As time goes on, Helen continues to think about Coach's legacy at IC-and finds herself thinking more and more about her own. That's why she's decided to make a planned gift supporting the scholarship after she passes away.
"IC has been a big part of our family's life," Helen says. "I'm thrilled with what Ithaca College has done for the Roberts family."
---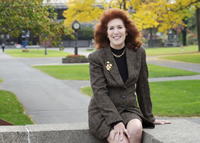 jae French
jae French's first visit to Ithaca College was anything but dull. She toured the campus and got to know several students and staff. She attended a concert in Ford Hall and an Ithaca College Theatre performance in Dillingham Center. She also visited the Handwerker Gallery.
But what really captured her attention? A pair of hands, splayed and aching from the repetitive movements required to perfect the piano.
"I sat in on a physical therapy session specifically for musicians," jae says. "I was so impressed by the therapist and how he worked with these artists to make changes in their technique and help eliminate their pain."
jae's visit was more than sight-seeing. In 1991, at a crucial point in her career, jae was injured in an accident that both medical and art experts believed would prevent her from ever sculpting again. For five months, both of her arms were paralyzed from fingertips to shoulders. That's when she realized the recuperating power of clay and art therapy.
"For me, the cure did not come easy, until I incorporated conventional physical therapy with the healing power of music, art, and dance. Music eases the pain; sculpting and painting emphasize dexterity of the fingers and the hands; and dance makes one move," she says. "I started to think about how I could help other people do the same."
So jae began researching programs that would do just that. She combed the Internet to find one suitable for her philanthropy. A single name kept rising to the top.
"Ithaca College was the only shining star in the entire country," she says. "Many schools had physical therapy programs that used only music or only art, but nobody else does the full spectrum."
jae decided to make a bequest to the college's PT department. She designated her gift to create a scholarship for students who are interested in incorporating the arts into their clinical practice.
"The students who learn at Ithaca College are going to give so much back to society," she says. "This gift is going to live forever, and that's really what it's all about. It's a wonderful legacy."
---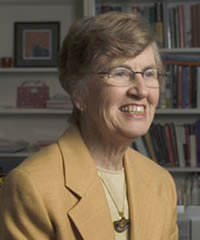 Francille Firebaugh
"During my tenure as a trustee of Ithaca College, my belief in the college deepened," says Francille Firebaugh. "The programs are strong, we attract good students, and it's an exciting place."
Francille, a former member of the Ithaca College Board of Trustees and the Friends of Ithaca College, was the first person to establish an annuity when the college resumed its charitable gift annuity program. The annuity provides Francille with an income for life, and after her lifetime the residual funds will be used to establish a named scholarship.
"This opportunity is ideal for alumni or anyone who wants to support the college's mission and programs while maintaining a lifetime income stream. It's remarkably easy to set up and has definite tax advantages."
---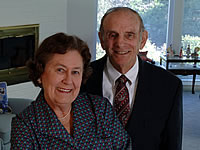 Jane '44 and Ed Seaman
Through a bequest intention and a charitable gift annuity, Jane Seaman '44 and her husband, Ed, have established the Jane Young Seaman '44 Theatre Scholarship for students majoring in theatre who demonstrate financial need, as well as the Jane Young Seaman '44 Endowment Fund for the Promotion and Support of the Ithaca College Theatre Department.
Jane and her husband chose to support her alma mater because "having graduated in the days of East Buffalo Street, it has been exciting to see the growth of the college on South Hill, while sensing that IC has retained its focus on the individual student a person, not a number."
They established a scholarship for drama students because, Jane said, "as a drama major, I understand the mountainous climb for anyone trying to make it in theatre. Helping a student devote his or her college time to classes and study rather than outside work should enable him or her to get more out of the college experience. My memories of IC are treasured. We hope to provide that opportunity to others in the future."